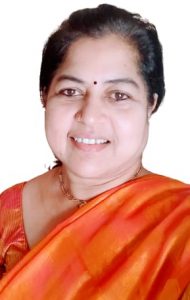 Dr. Kanteti Vijayalakshmi
Professor
Dr.Vijaya Lakshmi Kanteti is a Doctorate in Business Management and holds Masters in Business Administration (HRM), Masters in Psychology and Education. Dr Kanteti brings in over 20 years of rich and varied experience in academic administration, teaching, research, training, counseling, Institution building activities, designing value added programs for the development of students with a strategic approach.
She has attended three International conferences and presented papers in Singapore, Malaysia and the USA. She has more than 30 publications in the area of Business Management in various National and International Journals. She attended many FDPs organized by Institutions like IIM, IPE, ISB etc.  updating knowledge base.
She has undertaken corporate training programs with BHEL, CII and ICAI. She loves to undertake student engagement programs for Educationally purposeful activities. 
Her areas of Interest include work life Balance, organizational Behaviour, leadership issues and strategic management.
Dr Kanteti has been awarded "woman of Excellence" in the field of Human Resource Management , Research and Academic excellence in India by International Leadership Development Council and Academy of Management Professionals in the year 2020 .
She has passion for Carnatic Music and is a veena player.