We are glad to announce that AMSSOI has completed 20 years of academic excellance. AMS School of Informatics [AMSSOI as it is popularly known] is a unit of Durgabai Deshmukh Mahila Sabha [Andhra Mahila Sabha], a voluntary social welfare organzation, started by Padma Vibhushan Dr.Smt. Durgabai Deshmukh with the prime objective empowering women through knowledge dissipation and bringing about a positive transformation in their lives.
AMSSOI was established in the year 1998. Since then with the spirit bestowed by Smt. Durgabai, AMSSOI Continues to live upto its Brand image of producing Dynamic knowledge rich MBA Professionals with an ability to take suitable roles based on a value system inculcated by AMSSOI.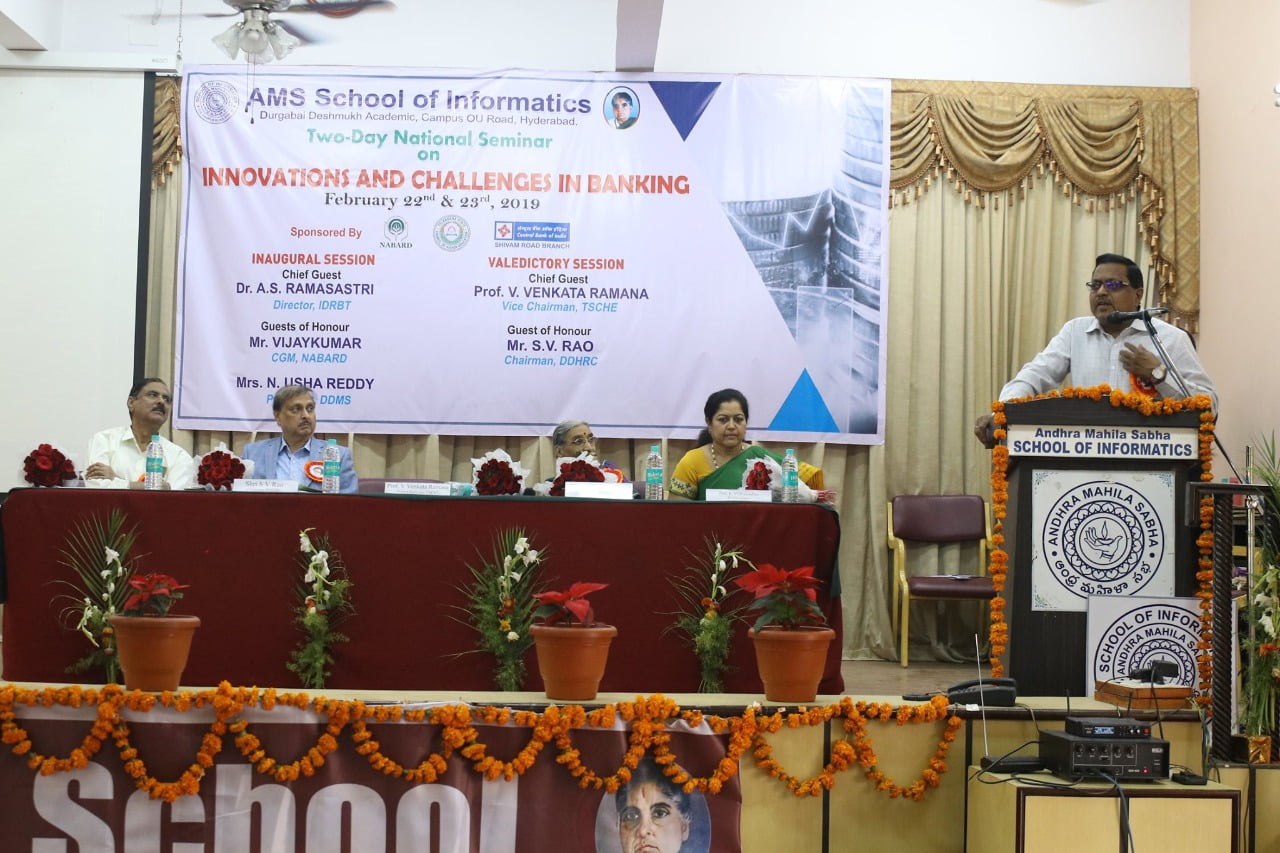 Best Infrastructure
AMSSOI has very good air conditioned lab for its students. The labs are available to the students from 9.00 AM to 3.30 PM on all working days and are monitored by the faculty and technical staff. The labs are equipped with sufficient computers more than the requirements of AICTE, stabilizers, UPS and a standby power generator. The hardware and software requirements meet the AICTE stipulations and AMSSOI procures only licensed software.

Alumni Support
The AMSSOI Alumni Association (AAA) has now over four hundred members. In the years to come it is expected that they play a positive role in the development of their alma mater and contribute immensely to societal needs.
Books & Library
The library at AMSSOI has a wide collection of several titles on various subjects and regularly subscribes to leading International and National Journals and Magazines. The library is upgraded every semester as per the requirements and requests of staff and students. The college provides a collection of 1207 titles, 3000 volumes of books. Also subscribed to digital library 'DELNET' to provide more up to date research database of e-journals
The core philosophy of Faculty@AMSSOI is always to mentor, respond and facilitate students to explore, experience and evolve as a professional Manager through various teaching learning methodologies. They believe in continuous learning by making them unlearn and relearn the latest trends to adopt themselves to changing corporate culture.
The Faculty works hard on developing people skills apart from technical and functional skills so as to make them employable and help the students fundamentally to evolve as a socially responsible and better human being.
What Students Say
Feedback
I Enjoyed Every Lesson!
I'm Kuncha Manasa (2015-17 batch) currently working as HR Expert handling Europe countries with NOVARTIS Hyderabad. It was a pleasure graduating MBA from AMS. The Faculty is great and knowledge we earn here matters in our Life for sure. Today being into a HR Expert role with a leading MNC I would say the learnings I got from AMS plays high role.

Kuncha Manasa
HR Expert, NOVARTIS
Fantastic! Great Faculty!
I'm Vaitla Anusha (2015-17 batch) working as Assistant manager at HDFC BANK. Life in AMSSOI remains a memorable time for me. The faculty was really good and approachable. Sports and games were given equal importance. They conduct various activities like Jam session, Group Discussions and Management games which helps in sharpening our skills.

Vaitla Anusha
Assistant Manager, HDFC BANK
One of the best colleges!
I'm A. Tejashwini C Rao (2016-18 batch) currently working for ICE Data Services as a Data Researcher. The Faculty at AMSSOI are very much experienced and are also student friendly. Just not the academics but extra-curricular activities and pre placement programs in the college helped me mould and develop myself and bag the desired job.

A Tejashwini C Rao
Data Researcher, ICE Data Services
Effective, a proper college you should be looking for!
I'm Mounika Peesari (2017-19 batch). Currently working with Wells Fargo as Financial Analyst. The support system and the encouragement in AMSSOI is wonderful. My MBA course here enriched me with communication skills and interpersonal skills which paved me a clear path. AMSSOI the best choice for a woman who is aspiring for MBA.
Mounika Peesari
Financial Analyst, Wells Fargo
Yes great experience in AMSSOI and great for me
I'm P. Vidya Sree (2017-19 batch) Currently working as an Equity Research Analyst at FactSet Research Systems Inc, moving into this position was a big career move for me, and I could not have made the step without the benefit of my MBA from AMSSOI. Thank you AMSSOI for giving a platform where I nurture myself. This institution has always supported their students in building their carrier.

P Vidya Sree
Equity Research Analyst, FactSet Research Systems Inc
Optimal Choice to enhance our business and leadership skills!
I'm G. Divya Gayathri (2018-20 batch) working as IT recruiter in SmartNet IT solutions. Good college with supportive faculty, they encourage students to take part in various activities across different colleges and enhance our business and leadership skills. That way we get an exposure to the business management world which further leads to many opportunities in the market.

G Divya Gayathri
IT recruiter, SmartNet IT solutions
Excellent! Great College!
I'm Kalyani Gudipati (2018-20 batch) working as Finance associate at SS&C- An American mutual fund agency. I consider my time in AMSSOI as most valuable experience. I've got a chance to sharpen my skills and also this college has taught me the practical skills which is very helpful in work life. I'm Glad that I did my masters in this college.
Kalyani Gudipati
Finance associate, SS&C- An American mutual fund agency
We are having number of clubs as part of activities they are